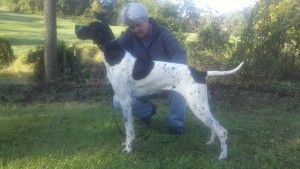 I know it's been a while since I updated the Zwei file, but summertime is busy here at Lionheart K9 and we barely have time to eat, let alone write!
Zwei is now a substantial and well grown young lad. At just over 7 months, he is getting ready to debut at the Wilderness Pointer Specialty held in Howard County next month. I am not expecting him to do much, but it will be nice to get him out. If he doesn't self destruct before then because he's pretty careless, or if he doesn't sprout a third ear, or eye, or fifth leg. I think he's looking pretty sharp!
As you can see by the photo, he's still got some growing to do; he's leggy and puppy-soft, but he's a good year or so from maturity, so we have time for him to pull it all together. We have a couple of weeks to polish off his movement for the ring. Right now, he figures it's a great excuse to prance around like a wild thing. it's not "heel" in his mind, anyway… Yet.
Looks ain't everything here, he's pretty bright too. We have been working on his basic obedience as well as starting his trained retrieve and dabbling in some scent work. He prefers to be moving and doing, which is delightful.
I surprise myself every time I get a new pup because of how much WORK they are and how I seem to forget that. He was and still is an easy dog. He came virtually housebroken and very clean. With all of the early imprinting we did when he was a tiny puppy, he is training up really nice. His grasp of the basic obedience commands reflect the daily work he gets. He heels, is great in strange places, is excellent with other dogs, strangers and even livestock. His recall is exemplary, even at great distances, so now its a matter of perfecting his obedience for his debut at the American Pointer Club National Specialty in the spring. I am hoping to get him on birds this fall to warm him up for the Field Trial held in conjunction with the Specialty.
He has a lot on his plate this fall and hopefully much more to add to the Zwei file!