The BEST Puppy Training in the state of Maryland!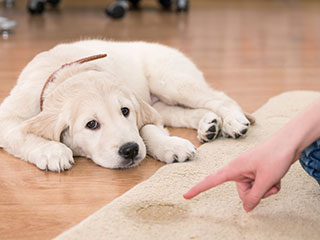 If you are just looking for help potty training your puppy, or for superior solutions to puppy training, why wait? Join Maryland's leading expert on puppy behavior and development!
Puppies learn at an exponential rate from birth until about 4 months of age. Exploit that opportunity to teach your puppy everything he needs to know as an adult dog, before growing up has him practicing the wrong behaviors, and size makes it harder to manage him physically.
Your pup will learn more through our industry leading puppy training programs than he would anywhere else. This puppy training program was specifically created by one of the dog training industry's most experienced specialist in puppy development and behavior to help nurture cooperative, confident adult dogs that are eager to learn.
Introduce your puppy to training the right way;  from the very beginning! It is easier to handle a puppy of any breed than it is an untrained adult, especially of the larger breeds!
More than just puppy potty training!
Start right, Start NOW!
Call 717-880-4751
or
Schedule a Consult with a Professional Trainer Today!
Schedule a consult with a professional trainer today! We can help design a plan to help you get the relationship you always wanted with your dog!