Online Dog Training
With Lionheart K9's Online Dog Training, you can get help from the comfort of your home!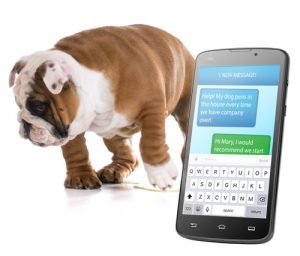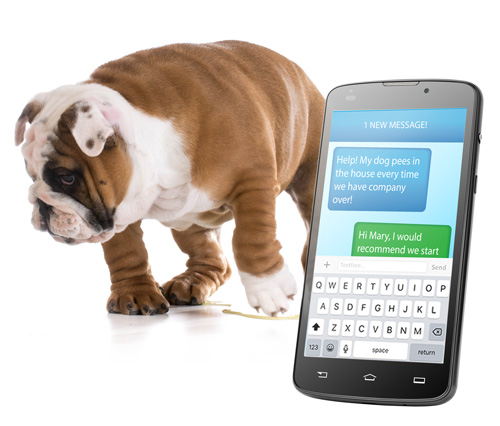 New Puppy
Potty training
Crate training
Jumping on counters, people, etc.
Chewing or mouthing
Basic manners training and more!
Your lesson will be recorded and you will have access to the material so there is never any misinterpretation of what we went over. You will receive additional training material that will help you achieve your training goals with each call, including written worksheets and video tutorials to help you study and practice at your own pace.
We can connect using your phone, laptop, tablet, or desktop. I am able to instruct on handling methods to help you practice with your own dog in real time, without you having to spend money on fuel, or carve out time to travel somewhere else to train. Win-win! Save time, money, enjoy convenience and award winning training from a pioneer in dog training virtual coaching!
Get the benefits of real-time coaching while wearing your pajamas, and start enjoying a better, more fulfilling relationship with your dog!
Enroll in Lionheart K9 University and get access to detailed instruction, including step by step video, with in-depth feedback, ideas, and advice designed to give you results and take your relationship with your dog to the next level.
Our Online Dog Training through Virtual Coaching program allows you to work with Linda from anywhere in the world, whenever you want! All you need is your dog, your desire to train your dog to a reliable level of obedience, internet access, and a smartphone.
Join hundreds of students worldwide, who have taken advantage of the opportunity to work with Linda online, when logistics have prevented them from working with her in person.
Experience the power of finally having solutions that will enhance your relationship with your dog without having to change out of your pajamas!
Take control of your dogs' most annoying behaviors!
Whether you live in the farthest corners of the earth, aren't having any luck finding a trainer that can accommodate your time constraints, or feel self-conscious working in a group of strangers with your embarrassing dog, you can enjoy personalized attention in the privacy of your own home, with our online dog training programs!
Health risks or concerns about your safety in public
Rising fuel costs make non-essential trips undesirable-
You don't relish the idea of working around a bunch of strangers-
You can't find a group class that accommodates your schedule-
You can't find suitable training within a decent driving distance-
You can't budget the time or commit to a full-length training program-
You need help FAST and don't have time to wait-
Trust me, I get it!
I also understand your frustrations and know how quickly things can go from 'bad' to worse when it comes to dog behavior. I am a certified dog trainer through the National Association of Dog Obedience Instructors and can work with you from anywhere. Most recently, I have worked with students in Portugal, Israel, Spain, the UK, Australia and Canada.
Most dog owners encounter problems with their dog in their homes, so it makes sense to learn how to manage their dogs more effectively in the environment where the obedience will be used the most. Having your own personal dog trainer to help guide you through each step will enable you to achieve results quickly and permanently.
How Our Online Dog Training works:
Sign up for a coaching call to get immediate help for problem behaviors like jumping, mouthing, housebreaking or other annoying issues. If you wish to take your unruly, obnoxious dog from knowing absolutely nothing to off leash performance, Lionheart K9 University's Virtual Coaching offers the same quality personalized instruction for you, in the privacy of your own home. You set the pace, You choose the place! No need to deal with rush hour traffic, tight schedules or the rising cost of fuel!
Get detailed feedback on how to make permanent changes that will improve your dogs behavior immediately!
SEE WHAT OUR ONLINE DOG TRAINING STUDENTS HAVE TO SAY!
Join my growing online dog training community for the most effective training available, anywhere. I can help you remedy those issues you are experiencing with your out-of-control dog, all from the comfort and convenience of your home. No more missed classes because of schedule conflicts, or missed opportunities to train. Get information that is not only helpful but easy to implement, and work on a schedule that you are comfortable with, whether you need help with simple problems, or are looking for that off leash reliability other people only dream about but have never experienced!


Phone: 717-880-4751
We have proudly offered dog and puppy training throughout the central Maryland area since 1989
Schedule a Consult with a Professional Trainer Today!
Schedule a consult with a professional trainer today! We can help design a plan to help you get the relationship you always wanted with your dog!
Online Dog Training from an Industry Expert!
Train any time, anywhere!
Call 717-880-4751
or
Lionheart K9 has helped me incredibly with my explosive, spoiled dog. I have been working with Lionheart K9 since May of 2020 remotely through their online dog training program, after attending an in-person seminar. I have received nothing but supportive, helpful, professional guidance to solve the issues I was having with my dog. My dog had 3 different instances of fighting with other dogs in a daycare setting, and had fought another dog we had in our household. I was concerned about this behavior, worried to take my dog anywhere, and considering euthanizing my dog as the behaviors he was displaying were things I didn't know how to handle and ultimately getting worse. All the problems my dog had, started and ended with me – something that Linda pointed out to me, and something that Linda graciously helped me solve through training. She has helped and supported me every step of the way to improve my life with my dog. Was it a quick and easy process? No. Was it something I needed to be consistent and fair with? Yes! Did it take a lot of effort and time? Absolutely. Do I worry about my dog's behavior now? Not at all. Will you need to work on YOUR behavior to help your dog's behavior? 100% yes. Linda has set me up with successful training protocols that have not only transformed my dog into a well-behaved companion, but also equipped me with the knowledge of how to handle anything that pops up unexpectedly. My dog is a completely different dog (in the best way) because of Lionheart K9. I no longer worry about explosive behavior, or aggressive episodes. I am able to enjoy out-and-about adventures with my dog safely now. I am an extremely happy, and less stressed, dog owner after working with Lionheart K9.
I am a professional dog trainer with seven years of experience, a thriving boarding and training facility, and not too little skill – but it pales in comparison to Linda's quiet economy of handling, judicious and clear communication with the dogs, and deep knowledge of dog training. I go to her when I run into problems. I can say that she is probably one of the best trainers in the country, and you are lucky to work with her!
Hands down the best trainer I've worked with. Finding Linda, as a professional trainer myself, has been a Godsend. Her knowledge and experience are unsurpassed. The way in which she teaches owners, dogs and trainers is clear and makes sense to the dog. I have seen massive improvement in the results my clients and their dogs thanks to Linda's teachings.
I have had a really great experience training my dog with Linda. Her knowledge on dog behavior is beyond anyone I have ever met and her ability to translate what your dog needs from you is incredible. Thank you for showing us what can be accomplished!
Simply the best Trainer I know in my life. She helped me to control and train perfectly my dogs and become also a better human being. Thank you Linda.
BEHAVIOR S.O.S.
Straightforward solutions for everyday problems- delivered to you via a virtual coaching call, with the addition of step-by-step worksheets designed specifically to help you solve tiresome problems like housebreaking, destructive chewing and jumping. Have a dog that steals stuff off of counters or jumps on guests? Virtual coaching calls can supply you with enough information to get permanent resolutions for the basic problems that annoy you the most about your dogs' behavior.
Each call includes handy reference material (with helpful video if it applies, and detailed written guides) specific to the problem.
PRIVATE TUTOR
Have a particularly sticky problem that resists your current training attempts? Want to get ahead of some nagging obedience gremlins that are interfering with your progress? The Training Tutor virtual program offers 6 weekly calls (that's one call a week, for 6 weeks) to help you discover new training strategies. Get an in-depth look at the techniques you are currently using and refine them to be more effective tools in your training arsenal.
Each call includes handy reference material (with helpful video if it applies, and detailed written guides) specific to your problem.
MASTER YOUR CRAFT
This isn't your typical "evergreen" drip content where there is no interaction with an actual human, or where you are logged into some nondescript FaceBook group filled with folks that know less than you do, hoping to glean that one magic nugget amidst all of the egos and bad information.
This is content curated by YOU, to answer YOUR questions and address YOUR problems.
If you are tired of the all the training gimmicks, seminars and "experts" that promise to show you new skills but fail to deliver, maybe you're looking at the wrong source!
This is a skill building Master Class by an actual Master Craftsman for folks that are tired of content created by people that spend more time on image than subject matter, and fail to generate the results you are looking for.
Our ability to articulate minute details within the anatomy of any behavior enables you to benefit from a fresh perspective that is unmatched anywhere.  Our ability to offer individualized personal feedback removes the guesswork and enables you to apply precise changes for immediate improvement.
No more waiting for answers or trying to 'figure it out'. Deepen your understanding of how dogs think and learn, increase your proficiency which will immediately benefit your dog, by learning from an actual expert.
Need proof?
Based on our most recent records, we have successfully enrolled 480 students through our hybrid Virtual Learning options, since prior to the pandemic.
Although most of our virtual students have come from the US, we have enrolled several from Canada, the UK, Israel, Spain, Portugal, South Africa, Australia, Brazil, Poland, the Netherlands and elsewhere into our 10 lesson Companion Dog programs, our Open Obedience Programs, Conformation Handling programs, and our Puppy programs.
It's been pretty gratifying to be able to help new dog owners, advanced amateurs and professionals, come to a better understanding of their dogs' needs, from half a world away.
It's also been an honor to see quite a few of our domestic students not only resolve their dogs' behavior issues, but successfully compete in AKC and UKC Obedience, on their way to titles with limited showing, earning placement ribbons against seasoned competitors.
The titles themselves hold no meaning for most people. What they demonstrate is the high level of training necessary to take a dog with serious behavior issues to a point where they can be adjudicated successfully by total strangers in an environment filled with noise and chaos. In order to get a title, a dog must be judged on its performance at least three separate times. Not only does that demonstrate a committment to training excellence, but the ability to take all the pretty ribbons, with the highest scores, has been icing on the cake!
Although there is a lot not to like about dog shows, for us, it has been a proving ground for our hard work and to demonstrate our ability to coach novices to extraordinary achievements, not only on a personal level, but for all the world to see.
Imagine what we can do for you.