About Lionheart K9 Professional Dog Training
What makes Linda Kaim and Lionheart K9 the best choice for your dog's training?
Because Lionheart K9 is synonymous with RESULTS 
Lionheart K9 was founded on the belief that a well-trained dog is not only a testament to his owner's regard for him, but their regard for the community in which they reside. By building each dog/owner relationship through cooperation and mutual respect, we are able to train dogs of any age, breed or behavior type successfully.
Our training programs can be customized around any dog's behavioral issues and as a result, people bypass other training businesses for our understanding and success with a variety of behavior issues, including dog and human aggression. We are often the 'last resort' for many dogs that have been failed by other training, or whose issues are beyond the scope of other trainers.
Our success isn't just *us*. Over the years, our most successful owners have all possessed the singular most important attribute for achieving their goals, and that is their dedication to their dogs and the desire for a successful outcome. They understand their success is contingent upon their effort, and are willing to do the work and make the sacrifices necessary to achieve their goals.
We are committed to their progress, every step of the way.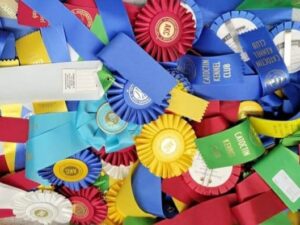 We have been in business since 1979 contiguously, and have handled thousands of dogs in a variety of disciplines, including upland bird dogs, retrievers, and AKC Obedience and Conformation handling.
Linda has trained, competed, and supervised the training of many dogs and handlers throughout the years. Her students continue to perform admirably in the AKC and UKC obedience rings, notjust  with dogs selectively bred and trained for that purpose, but with dogs adopted out of shelters, rescued off the streets, or acquired from owners who gave up on the dog, due to 'incompatible' behaviors.
Linda believes that the hallmark of an accomplished trainer and instructor is the achievements of their students, and Linda's students have not disappointed!
Linda is an endorsed member of the National Association of Dog Obedience Instructors, which is the oldest organization of it's kind in the world. Membership in this organization isn't assured, as each applicant is examined through a rigorous process that truly measures one's competence with training dogs, and their ability to instruct others effectively.

Our specialty is our desire to help owners create happy, willing companions that are a pleasure to own. Using proven concepts to change their dogs' behavior humanely and permanently, we enable owners to really enjoy their dogs, including them in activities other people can only dream about, easily, and without conflict!
Linda has achieved international recognition through her work with puppies and young dogs and remains dedicated to studying how dogs learn and how to maximize their potential.
The focus of her most recent work over the last decade has been on behavior development and early learning in puppies. Linda believes an ounce of prevention is worth a pound of cure and she continues to create programs for new puppy owners that enables them to eliminate the stress very young puppies can create. Her 'Puppy Primer' seminars all over the continental U.S. has passed these concepts on to other trainers and owners.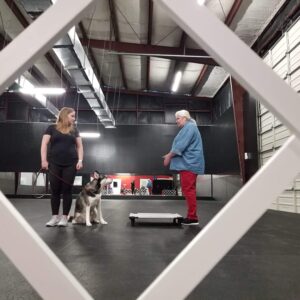 Using concepts learned from the working and performance dog cultures, Linda developed and streamlined a concise program exclusively for puppies that defies the current beliefs about puppy and young dog training, and truly prepares young pups for a lifetime of problem-free learning. This internationally acclaimed training was initiated exclusively by Linda Kaim and has provided her with workshop and speaking engagements across the US, with invitations to speak in Canada, the UK, Australia, and Singapore. Although the Pandemic curtailed her overseas travel plans, she still managed to log over 15 thousand miles domestically to conduct seminars in Missouri, Minnesota, Nebraska, West Virginia, Ohio, Texas, North Carolina, and at home, in Maryland.
Linda has been featured in articles about dogs and training in Carroll Magazine twice, the Baltimore Sun, The York Daily Record and WITF's Central Pennsylvania Magazine, as well as various trade magazines throughout the years. She piloted Dog Safety workshops for the Harford County School District through the Humane Society of Harford County during the mid 2000's and appeared on several guest spots through the Harford County's Public Access Television programming. Linda has also supplied testimony as a subject matter expert in court over service dog public access rights and dangerous dog issues. She continues to be active as the Legislative Chair for the National Association of Dog Obedience Instructors, and within the state of Maryland.


Phone: 717-880-4751
We have proudly offered dog and puppy training throughout the central Maryland area since 1989
Schedule a consult with a Professional Trainer today!
Schedule a consult with a professional trainer today! We can help design a plan to help you get the relationship you always wanted with your dog!
Ready to Get Started?
Schedule Your Consultation
Call 717-880-4751
or