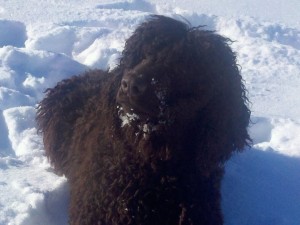 The winter is finally upon us. A little manic depressive behavior for all that, sub zero temperatures for over a week to days in the 60s and 70s. The dogs are struggling with the changes and so are the humans. It has made our training endeavors…interesting.
Often we are asked how we manage  the contrary Mid Atlantic winter and I answer, "We just do it."
Our Residency Training dogs are the beneficiaries of individual attention and care, regardless of the inconvenience to us, or the weather. Owners are surprised at the length of time their dogs get to spend outside here. They often realize that their dogs usually don't get that much at home.
When we agree to train your dog, we are obligated to actually provide that service, regardless of the weather. Most of the dogs in our care are house pets and most of them share their owners' intolerance for the cold. Most reasonable people are disinclined to spend inordinate amounts of time in objectionable weather, nor are they willing to invest in insulated clothing to protect themselves adequately for extended periods outdoors. And besides, Carhartts are not really considered appropriate office attire.
We gear up like we were climbing K-12 and suck it up. Coffee consumption increases by 100% throughout days like this. Dinner is usually a welcoming heavy soup that has been slow cooking since the early hours.
Having a houseful of dogs, both our own personal dogs and the skein of client dogs that have joined us since the first of the year, doesn't lend itself to long days curled up on the couch for the humans. We need to provide adequate time outdoors for the dogs to facilitate training and obviously, to allow them the opportunity to relieve themselves and stretch their legs.
Today is a prime example. My husband is clearing the light snowfall that came unannounced overnight while I type this, in anticipation of a long day in the elements. I have 7 dogs that need exercise, to eliminate multiple times throughout the day, and at least a few minutes a couple times today at the end of a leash rehearsing their obedience skills or learning new ones.
Additional protection is offered the dogs as well. Jackets for the close-coated dogs like our Pointer, and we make sure that their feet never come in contact with treated surfaces. If it cannot be avoided because of off-site training like the mall or other public areas, we make sure we check and even wash feet to be sure they are free of abrasive salts and other surface treatments. We limit their time out of doors in really bad weather like we experienced about a week ago. Even our most stoic guests were eager to limit their exposure to the sub zero temperatures!
Water is a critical element in working in cold weather. Most people overlook it for themselves when it's cold outside, and dogs do too. Adequate water intake is probably even more important in the winter because we do not sweat as much. For the dogs, we encourage additional intake by "flavoring" the water with a little warm broth, or by adding water to their meals. The big deception of cold ambient temperatures and strong sun will make a dog thirsty and water needs to be available to them virtually around the clock. The sharp, dry air of most households heated by electricity makes it necessary as well.
A little warning about footwear. There are several products out that facilitate walking in snow or on ice (or in my case, just staying upright) and they are great, but come with a caveat. Please be careful of where your dogs' feet end up. These appliances can seriously damage your dogs' toes or feet if they get caught under them. I have seen YakTrax skin a dogs toes down to the bone because they happened to get "underfoot". They are great tools to help in treacherous footing, but to be honest, that's something that we usually try to avoid during training. We will call a "snow day" if the footing is so bad that we can't train outdoors safely!
If you are up to the task, we are still booking brave souls for private training through what is traditionally the worst winter weather months for the Mid Atlantic, February and March. If you view the winter as the most unpleasant time of year and would rather stay indoors instead of working with your dog, we offer a variety of programs to train your dog for you, to alleviate you of the unpleasantness of working in climates not to your taste!
Stay warm, stay dry, stay safe and happy training!