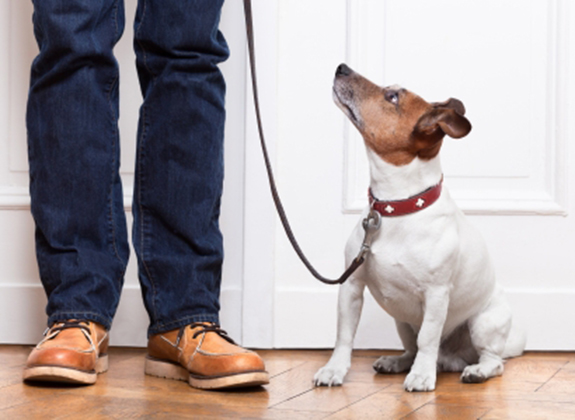 This program is developed for the owner with the time and the desire to put in the work and train their dog themselves, and just needs to be pointed in the right direction…
You want your dog to be the well trained companion you envisioned when you got him, not a chore that must be endured.
We will address your biggest issues and what you wish to accomplish through training, so your dog learns how to behave, including around competing distractions in the "real world". YOUR world. Develop the confidence and peace of mind knowing you can control your dog any time, anywhere!
We provide you with one-on-one instruction at our location, where we can control distractions so productive learning and continual improvement occurs. Our Exel-erated Learning E-collar training program will help you create a transformational relationship with your dog!
This training is offered to owners of dogs over the age of 4 months.
We train dogs. We EMPOWER owners!

Some of the things you will be teaching your dog are:
how to walk politely without pulling or running off
to retreat to  specific location and remain there until released
to sit, lie down and stay
to come to you when you call!
how to eliminate annoying behaviors like jumping, mouthing and barking.
to relax on cue, so you don't have to constantly monitor his behavior, or confine him when guests arrive.
Additional benefits include:
Step-by-step training instruction including written instructions and video
Unlimited support and follow up via email, phone or text throughout training and beyond
Professional quality equipment is provided for you, so there is no "guesswork" about what to buy.
Private Dog Training
For Dog and Owner
If you want to have a better understanding of your dog and his behavior, there is no better program out there for getting you and your dog on the same page, than our Private Dog Training program, for dogs and owners.

As an involved owner, you have the time and choose to make the commitment to work with your dog to create that undeniable bond that can only come though working together. Under the supervision of our professional staff, you will learn how to handle your dog consistently and without conflict. These private lessons can help you transform your relationship with your dog from one of conflict or chaos to relaxation and enjoyment!

You will learn how to identify and eliminate things that may be sabotaging your training, by practicing consistency and timing under the knowledgeable eye of your training instructor.

Our training is designed for you to succeed, by enabling you to understand HOW your dog thinks, and WHY he reacts to things the way he does, creating an environment of mutual understanding and respect. We provide lifetime support and follow up, to assure you are able to achieve and maintain your training goals for the life of your dog.

Program Enrollment is determined by an in-person evaluation. The e

valuation fee (100.00) will be attributed to any program paid *in full* on the day of the evaluation.

This is a program dependent on owner commitment to achieve success. We guarantee that what we teach does work, but it is up to the individual to apply what they have learned, and be consistent in their efforts. 
$995.00 
Private Dog Training-Training for Dogs, Empowerment for Owners
Learn to handle your dog effectively regardless of distractions!
Call 717-880-4751
or