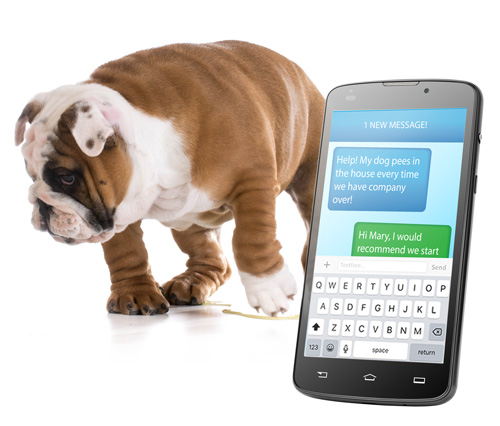 Dog Training On-Line!
Our Video Coaching program allows you to work with Linda from anywhere in the world, whenever you want! All you need is your dog, your desire to train your dog to a reliable level of obedience, Internet access, and a smartphone.
Enroll in our Measurable Standards online learning modules on FaceBook, and get access to detailed instruction, including step by step video, with in-depth feedback, ideas, and advice designed to give you results and take your relationship with your dog to the next level.
You will be required to submit videos of your work, so we can monitor your progress and to provide you with suggestions to assure your success from basic through advanced obedience.
Join hundreds of students who have taken advantage of the opportunity to work with Linda online, when logistics have prevented them from working with her in person.
Experience the power of finally having solutions that will enhance your relationship with your dog without having to change out of your pajamas!
How it works:
Video coaching: Enroll in any of our on-line offerings; our 6 week Mayhen to Manners, 10 Week Measurable Standards Companion Dog course, or our 6 week Electronic Training Collar course. Take your unruly, obnoxious dog from knowing absolutely nothing to off leash performance. A time-tested method of training that has trained tens of thousands of dogs, and is capable of helping you with yours!
Get feedback: Shoot video of you and your dog working the target exercises, and get detailed feedback on how to improve your dogs performance!
Step I:
Purchase your video coaching:
Become part of our Measurable Standards OnLine Training Forum and join students worldwide who have successfully trained their dogs following this time-tested training program!
Step II
Get access to the Online Forum!
Once payment is recieved, you will be recieve the link for access to the online group and you will be able to start immediately. Our course is designed in weekily "Guides" with written material and video examples available as soon as you enter the portal.
Step III
Shoot your video!
Shoot horizontally. Shooting while holding your phone vertically will reduce the ability to view the necessary details.
Shoot close enough to the action that the camera can pick up leash handling from the front or from the side (from the left) and from the rear.
Hold it steady! If you don't have a tripod, try resting your phone on a stable surface while shooting, or ask a friend or training partner.
Check your lighting. The best videos are shot in natural sunlight.
Step IV
Upload and share your video with Linda!
Learn how to upload video to YouTube:
Public videos and playlists can be seen by and shared with anyone.
Private videos and playlists can only be seen by you and the users you choose.
Unlisted videos and playlists can be seen and shared by anyone with the URL address.
Convenient, economical. Learn in the privacy of your own home, at a time YOU choose. Receive the benefits of private instruction with an internationally recognized trainer committed to YOUR SUCCESS, and you don't even need to put on your shoes!
But… we advise that you do… because that would just be awkward!
So! Let's get started!